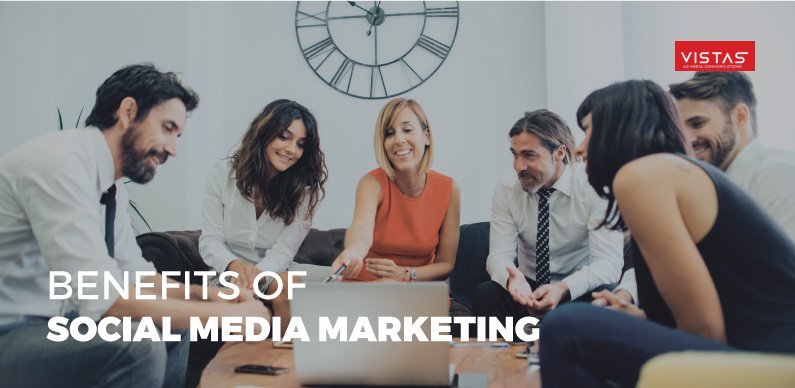 Social Media platforms are great to create and share your content with the world, to keep in touch with your friends; but that's not all. There's more to them than one can imagine. Social Media Marketing, for instance, is not a fad anymore. It's real and as good as any other type of marketing. Put simply, Social Media Marketing leverages the advantages of social networking sites, such as Facebook, Twitter, YouTube, Instagram, and others, as tools to promote businesses. Improving communication with customers and increasing brand visibility have never been so easy.
The attention span of people is decreasing by the day and making your presence felt is not quite easy. 90% of users on the Internet do not go beyond the first page of their search engine, hence it is important to strive to position your website on the first page of the search engine. Social Media Marketing helps a great deal in this regard. When your website is linked on a social network page, the website's position on the search engine rises.
Let's have a look at a few important benefits of social media marketing.
We highlight the benefits of social media marketing:
Heightened brand awareness
Inbound consumer traffic that is ready to buy
Better visibility with Improved search engine rankings
Higher conversion rates
Better customer satisfaction
Improved brand loyalty
Enhanced brand authority
Offers highest ROI
Brand Recognition
It's a given that consumers want to opt for brands they recognize easily, and social media marketing helps you tremendously. It's one of the most powerful digital marketing strategies for a reason: you don't have to make a dent in your wallet. All it takes is a couple of hours every week. Set up a social media account for your business, put up a striking cover page, explain about your brand and the services you provide and start interacting with people.
Post and share interesting stories on your timeline and compel your followers to "like" and "share" them. You can even ask them to do it, there's no harm in that. Besides, if you provide enough value, people will automatically do it without your having to say so.
Customer Engagement
Businesses that engage with their customers on their social media channels have a better chance of improving their brand loyalty than those who do not. Customers who follow you on social media channels are more likely to remain loyal to your brand. The posts you share on your channels are a great opportunity to convert visitors into your customers. You also have the opportunity to reply to your customers' queries quickly and in real-time. According to a recent study, 75% of customers who receive quick replies are likely to recommend that brand to others. This increases brand awareness.
Increase Traffic and Improve Rankings
If there's one thing that helps you reach more customers outside your immediate loyal customer base, it's social media. Without social media marketing, it's insanely hard to drive more traffic to your business. Every story, picture, and video you post on the social media page of your business offers a chance to acquire a new customer, for social media channels have all kinds of people: people with different tastes, needs, and priorities. Needless to say, social media helps increase the organic reach of your business and creates a portal for your business to reach a wider audience. Creating high-quality content for your social media channels is a great way to improve your chances of ranking better on search engines.
Audience Insights
Providing satisfying customer services is the foundation of any good business. And in order to do that, you need to get authentic customer insights. Social Media is a wonderful way to achieve this. Social networks let you analyse your customers; help you know and understand what your customers are looking for and what they are talking about. Once you gather enough information about your customers' wants and needs, it's easy to cater to them.
You can listen to your customers' queries in the comments section and answer them right away. You may have a customer service department in place, but resolving their queries on social media is always more beneficial. You are not only answering to a particular customer, but also gaining the trust of other customers who are reading them. Make use of social media analytics tools and know the behavioural preferences of people and customize your service accordingly.
Geotargeting and Advanced Targeting
Social Media Marketing helps you identify your target audience. It is extremely data-rich and its data analytics tools help you analyse your customers' preferences, your competitors, and find your target audiences in the easiest way possible. Another major benefit is Geotargeting: targeting customers who are within a certain kilometre radius of your business location. This helps attract more customers and drive more sales.
Advanced targeting, on the other hand, helps you target different people in different ways. This helps you target people who follow specific brands on Twitter or on Facebook. And on LinkedIn, you can target users who work for specific types of businesses. You can also target users who search for certain keywords on Pinterest. The tracking feature is, without a doubt, the prime benefit of Social Media Marketing. Result tracking is another: it helps you fathom sales, website traffic, email subscriptions, and the overall effectiveness of your social media campaigns.
Cost-effectiveness
One of the most prominent benefits of Social Media Marketing is its cost-effectiveness. You need to spend some serious money to advertise your business on traditional platforms like TV, radio, newspapers, magazines, etc. But not on social media. Signing up on Twitter, Facebook, LinkedIn, Instagram, etc. is free! Even if you opt for paid promotional campaigns, they are very affordable.
Social Media Marketing is not only cost-effective, but it's also an easy way to retain your customers. It is result-oriented, it is cost-effective, it ensures customer satisfaction. If you want to opt for paid advertising on Social Media, start small and gradually fine-tune your strategies and increase your budget as you start reaping benefits. Interacting with customers on a regular basis ensures better customer satisfaction. Acknowledging your customers, even with a simple gesture as "liking" their responses on your timeline, can ensure better customer engagement.
Conclusion
Loyal customers spend more time with you and stay with you longer. And one of the best ways to earn loyal customers is through one-on-one interaction on Social Media. Social Media not only makes your marketing journey interesting and interactive but also helps reap great profits.