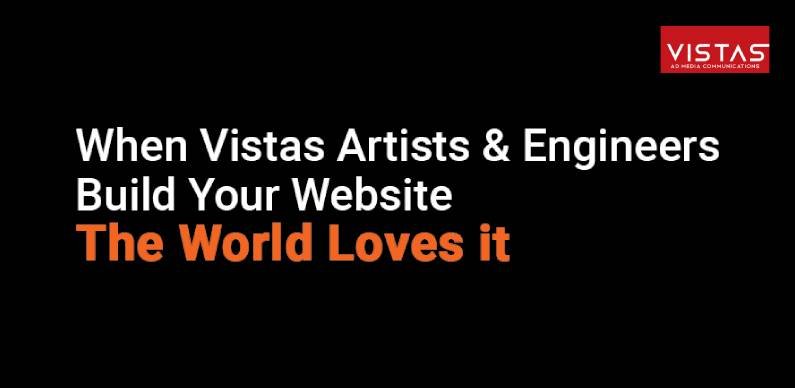 Corporate Communications for Business to Take-Off
Every enterprise needs to communicate with its stakeholders. Vista AD Media communications is your gateway to engage with your clients, customers, investors, and other institutions.
At Vistas, trained and professional writers, designers and engineers create personalized and tailor-made websites, eCommerce portals, corporate profiles, sales brochures, product catalogues, annual reports, and other promotional digital and print literature for your business. We don't just prepare your profiles; we make them interactive.
Vistas works with fortune 500 communications design firm located in the vibrant city of Bengaluru. Our custom communications solutions will make your business presentations unique and engaging to your audiences.
Clarity and ability to present data in summarized form defines our work. Vista AD Media communications has a rich dimensional experience in corporate communications. We manage the entire process beginning from concept, brainstorming, developing and finalizing content ideas, suitable professional photography, and creative typography to the final printing of the work.
Benefit from Enriching Business Profiles
Team Vistas are eager to go the extra mile to deliver products that enrich your business profile and create a niche for your business. We work with diversified clients located globally. With our office located in the corporate city of Bengaluru, we strive to offer the latest cutting edge technologies to our clients.
We would be glad to serve you! We welcome you to experience our service that will be completely bespoke to your business requirement.
Vista AD Media communications is a one-stop-shop for all your business marketing and promotional needs. Vistas AD Media Communications creative effort aims to convert the ordinary into extraordinary and build authoritative presence. We work on establishing consumer perception, build value & successfully present and communicate that value to the consumer through:
Creative Communications
Advertising
Brochure Design
Graphic Design
Logo Design
Corporate Identity
eMail Marketing
Newsletter Design
Digital Marketing
SEO Services
Search Engine Marketing
Social Media Marketing
Pay Per Click Advertising
SEO Copywriting
Link Building
Content Marketing
Interactive Web Solutions
Web Design
Responsive Web Design
Web Development
Drupal Development Services
Content Management System (CMS)
Wordpress Development
Joomla Development
Content Writing
Web Maintenance Services
Mobile App Development
ECommerce Development Services
Corporate Brochures Prospectus
Promotional Flyers Annual Reports
Sales Brochures Product Catalogues
Company Profiles
Corporate communication in the form of digital web development, marketing collaterals and other reports are the backbone of marketing and promotion activities of a business.
Significant marketing initiatives will not succeed unless backed by quality content. We, at Vistas AD Media, understand this completely and endeavour to provide you with promotional and sales material that is eye-catching, crisp and appealing.
Theme Based
We follow a theme-based approach in our work that looks more organized and harmonized
Clarity of Concept
Crisp and to the point content makes our brochures attractive and user-friendly
Taglines
We suggest tag lines that describe your business best
Imaging
Our handpicked photographs will give a professional and structured look to your material
Space Optimization
We always mention the right quantity of content in a page to preserve its look and feel
Analytics
The scientific and rational portrayal of content is key to our work
Graphics
Our experts will make sure to present business data in user-friendly form backed by graphics created by experts
Business Ideas
In addition to your business ideas, we'll also suggest ours and add that extra flavour
Designing
Our immersive designs will effectively carry across your business messages to your clients
Quality over Quantity
We always go in for qualitative content rather than adding unnecessary space
Quality Commitment
Quality is at the heart of every work that we do for our clients
Price Advantage
Our prices are competitive and value for money for our clients
Price is never a concern when you associate with us. We give you services at a price that works best for you and never compromise on the quality and our benchmarks.
Contact us today for a free quote and give wings to your business!
Take Your Business Forward with Exceptional Marketing Tools
Quality marketing tools such as: websites, promotional brochures and literature are valuable tools that may be utilised to share your business' details and inform potential customers of your goods and services. Both electronic and print communications have become staples of the marketing industry due to their well-known success. They often serve as the first point of contact that your company makes with a person, so they must be well designed and eye-catching. Both electronic and print communications can be shared, posted in public settings, and distributed to a wide variety of potential clientele.
WOW Your Customers
Our communications experts have over two decades of experience in various fields of business, designing and creating engaging marketing platforms to bring your company to the forefront of today's economy. Here are some of the top reasons businesses choose to add marketing communications to their marketing plans.
Bringing Your Vision to Life
Here at Vistas AD Media, we are devoted to your business' success. Let our team take full responsibility in managing the creative process of bringing your website, brochure, corporate profile, or product catalogue to distribution. Whether your goal is to promote sales, increase your outreach, or launch your business, we have the expertise to carry out your marketing plan.
Superior Quality in Every Aspect
Our professionals are with you every step of the way, from concept development to printing. We work with professional photographers and engage in detailed typography to ensure a final product that is of exceptional quality in every aspect of its design. Our writers produce engaging marketing content to target your audience of choice with selective wording and clear vocabulary.
Be a part of the design process
Work with a team of detail-oriented designers and creators
Watch your ideas come to life
Guarantee of Excellenxce
You can be assured that you will receive a product that you love from us due to our high emphasis on collaboration. Our team will work with you to determine your goals and needs for the project and will revise the product until you are completely satisfied. Starting with a detailed design plan, professionals will carefully lay out your ideas and develop them into a coherent marketing tool, incorporating your input in its creation. We want you to receive the best quality product available and make every effort to generate professional marketing tools.
Vistas AD Media Communications are Global Performers
Based in Koramangala, Bangalore, we work with international clients on a global scale, from the United States to the United Kingdom to Australia and beyond. Our team can construct clear, direct marketing language for various markets targeted toward differing audiences. Language and cultural preferences are always taken in to account in the creation of our products to ensure the best results for your company. We understand that you may serve a diverse clientele. Because of this, your communications can be designed and produced with translation into different languages in mind.
Great Product, Competitive Rates!
Vistas offer competitive rates for a variety of different projects with varying levels of complexity. Allow us to take on your next website graphic design, logo design, newsletter design, advertising branding, or email marketing endeavours.
Let's Get Started!
Step into our office or schedule a phone meeting to discuss your needs. Your success is our objective, contact us for a consultation if you are interested in taking your business to the next level of marketing development. Become a part of the global Vistas team today.